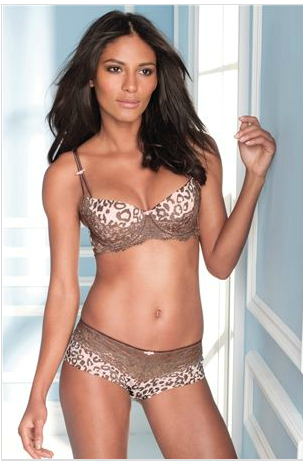 Some of the most elegant and affordable looks on the high street
Whether you are preparing for a special occasion and are on the lookout for some satin nightwear, or you want some easy-to-wear, pretty pieces for everyday use such as comfy, stylish slippers, UK retailer Next has some outstanding options on the high street, combining luxury and affordability.
When it comes to what goes under your clothes, taking the time to buy beautiful and comfortable lingerie can really make a difference to your day. It's an area that is often neglected by women – up to 95% of women are wearing the wrong bra size, which can cause damage to the breasts, according to research by University of Portsmouth in 2008.
We think that Next's balcony bra (pictured)– newly launched for 2012 – is a great solution for women looking for an attractive, comfortable bra to wear day to day that still feels special. It is also excellent value coming in a pack of 2 for £20, with two options for matching knickers – thong or shorts, also in a 2-pack for £9 or £10 respectively.
This is a good option for women with larger breasts who need solid support all through the day. When it comes to the evening and luxury night-wear, however, we might want something a little less firm, and a bit more playful.
Next has some lovely options in its Lingerie Collection, as well as through some of its branded partners. A white slip is £16 and is a light, summery, item to wear to bed night on night. For other springtime looks in white, this white broderie bra, with matching shorts or thong, is a wonderful look to either wear underneath or to simply have as your light daytime underwear.
For occasion wear and special night, this own-brand babydoll is an almost mini-dress length piece of nightwear that has a little bit of support and a lot of character, with black lace details and sheer mesh body.
Bodies and suspenders are also on offer through both the Next lingerie collections and other brands sold through the retailer, such as Wonderbra and Miracle, which also works to reduce tummy and add extra hidden support.
---